I can't believe it's the last Top 5 Tuesday of April. Why is this year going so fast!?
Top 5 Tuesday is hosted by Shanah – The Bionic Book Worm. This week the topic is books that you predict will be a 5 star rating.
I'm making a conscious effort of trying to knock back my TBR list. The number of physical books I have in my house is becoming a joke, so 4 out of 5 books on this list are books that I actually own, with the other one being an ARC I've received. So, here goes.
__________________________________________________
The Caller – Chris Carter
After a tough week, Tanya Kaitlin is looking forward to a relaxing night in, but as she steps out of her shower, she hears her phone ring.  The video call request comes from her best friend, Karen Ward.  Tanya takes the call and the nightmare begins.
Karen is gagged and bound to a chair in her own living room.  If Tanya disconnects from the call, if she looks away from the camera, he will come after her next, the deep, raspy, demonic voice at the other end of the line promises her.
As Hunter and Garcia investigate the threats, they are thrown into a rollercoaster of evil, chasing a predator who scouts the streets and social media networks for victims, taunting them with secret messages and feeding on their fear.
The Adversary – Emmanuel Carrere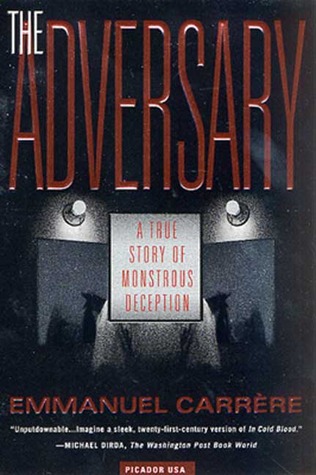 On the Saturday morning of January 9, 1993, while Jean Claude Romand was killing his wife and children, I was with mine in a parent-teacher meeting…
With these chilling first words, acclaimed master of psychological suspense Emmanuel Carrère begins his exploration of the double life of a respectable doctor, 18 years of lies, five murders and the extremes to which ordinary people can go.
Copycat – Alex Lake
Sarah Havenant discovers–when an old friend points it out–that there are two Facebook profiles in her name.
One, she recognizes: it is hers. The other, she has never seen. But everything in it is accurate. Recent photos of her and her friends, her and her husband, her and her kids. Even of her new kitchen. A photo taken inside her house.
She is bemused, angry, and worried. Who was able to do this? Any why?
But this, it soon turns out, is just the beginning. It is only now–almost as though someone has been watching, waiting for her to find the profile–that her problems really start…
Don't Wake Up – Liz Lawler
Alex Taylor wakes up tied to an operating table.The man who stands over her isn't a doctor.The offer he makes her is utterly unspeakable.
But when Alex re-awakens, she's unharmed – and no one believes her horrifying story. Ostracised by her colleagues, her family and her partner, she begins to wonder if she really is losing her mind.
And then she meets the next victim.
The Possible World – Liese O'Halloran Schwarz
Ben is the sole survivor of a crime that claims his mother and countless others. He is just six years old, and already he must find a new place for himself in the world.
Lucy, the doctor who tends to Ben, is grappling with a personal upheaval of her own. She feels a profound connection to the little boy who has lived through the unthinkable. Will recovering his memory heal him, or damage him further?
Clare has long believed that the lifetime of secrets she's been keeping don't matter to anyone anymore, until an unexpected encounter prompts her to tell her story.
As they each struggle to confront the events – past and present – that have defined their lives, something stronger than fate is working to bring them together…
____________________________________________________